Editorial
Big challenge for Qualifas ahead : implement in the smoothest possible way the 9100 series version 2016, so that transition is done in due time, anticipate all needs in terms of qualified resources requirements, and alert on any issue that might impact audit planning.

In parallel, the Scorecard is being deployed. Finally, the same measurement for all, from Primes to suppliers ! Indeed, harmonizing the calculation methods for performance, on time delivery and conformity, will allow all industries to work more efficiently together.
EN9100:2016 - Auditors'Day
Training dedicated auditors for Aeronautics, Space and Defence (ASD) supply chain certification
The organisers (from left to right)
Eric SAILLARD - Thales - Président du CBMC français, Marie-Laurence PETIT - Airbus, Daniel ALBIER, Anais BEAU - Qualifas, Brigitte CLAMENS - Zodiac Aerospace, Jacques FORGE - Airbus Safran Launchers, Michel JACQUANIELLO - Zodiac Aerospace
On July 1st, the French Certification Body Management Committee (CMBC) organised a training day on the deployment of new 9100-series standards.

This event, held in the Thales Velizy-Villacoublay, gathered together over 100 people - auditors, representatives of the certification bodies (AFNOR Certification, Bureau Veritas Certification, LRQA France, SGS-ICS France) as well as other partsl assessors who contribute to the French EN9100 aeronautical certification scheme as per International Aerospace Quality Group (IAQG) requirements.

The 2016 version of EN 9100 is not just associated with the need to integrate the new ISO9001 requirements, revised on 15 September, 2015. it also integrates the new needs identified from the previous version, such as product safety, counterfeit prevention, risk management, quality awareness and ethics.

As of June 15, 2017, all the EN 9100 series audits will have to be performed with the new EN9100:2016. The certification bodies shall be responsible for providing support during this transition until its completion on September 15, 2018. QUALIFAS also emphasised the importance of auditor qualification management, a major factor in the certification process.

Industries and certification bodies will work together with COFRAC (French Accreditation Body) to improve safety, quality and performance in the ASD sector.
Supplier Scorecard
Objectives - Deployment & Training
| | |
| --- | --- |
| | The Gifas Scorecard, a reference tool for improvement and cooperation to ensure the success and development of the AeroSpace and Defence (ASD) industry Finally a single, common measurement to be used by all, especially small and medium size industries ! |
Faced with the difficulties encountered by small and medium businesses in setting up performance, punctuality and conformity indicators for them to understand the multiple definitions of their customers, Gifas entrusted Qualifas with proposing standards for each of these indicators. They are currently being deployed by the Primes. (AIRBUS, AIRBUS HELICOPTERS, DASSAULT AVIATION, MBDA, SAFRAN, THALES, ZODIAC AEROSPACE, LIEBHERR AEROSPACE, DAHER, AUBERT & DUVAL, etc.). AERO PME is acting as a driving force in this deployment.

In the long term, this Scorecard will be used to consolidate/pool data per activity.

In order to facilitate this deployment, Qualifas has created a one-day training course for ASD industries.

Are you ready to deploy the Scorecard in your company ? Would you like a training course ? Fill in the deployment follow-up table and return it to Qualifas. We will propose training sessions !

Free access to reference documents (Punctuality, Conformity & Format specifications - Deployment milestones - Deployment follow-up table to be completed) Click on the link below


"Our operational activities" - "on-line at the suppliers"
"ASD supply chain optimisation" seminar

Participants in the seminar led by Yves QUINTANA
– Thales Communications & Security
April 29 was dedicated to discussions between Qualifas members around the subject of "Supply chain optimisation"

The seminar was held in a friendly setting near Orly. Eighteen member companies enrolled for this day, giving a total audience of around 50 people. The goal was twofold: to examine control of the supply chain and to discuss common issues. The seminar covered Scorecard deployment and supplier cooperation, breakdown of certification requirements, industrial maturity, the Advance Product Quality Planning (APQP) and Product Control Plan tool, used to standardise supplier planning and scheduling activities and as well as supplier dynamic management.

The organisers, experienced workers, were extremely motivated in presenting these subjects by situating them in real contexts. They introduced the trainees to little-known tools and contributed to lessons learnt thanks to their experience.

New fundamental topics have already been identified for next time, with everybody motivated to discuss best practices and upcoming changes in order to gain in responsiveness and competences.
Supplier common monitoring actions
| | |
| --- | --- |
| | Participants in the meeting led by Daniel GRECH – Airbus Helicopters |
At the beginning of each year, QUALIFAS defines the programme for shared "product/process" assessments at certain suppliers common to several members. This year the programme is even more extensive, with nearly 400 scheduled assessments.

The consolidation meeting for the common monitoring programme was held on the Thales Avionics site in Vendôme (Central France), city of art and history. Approximately 15 industry members participated in the meeting, which was also a forum for valuable discussions between experts on best practices and lessons learnt.

It also provided everybody with the very interesting opportunity to discover the Vendôme industrial site.
Qualifas common activities - Indicators
(2016 Mid-year)
Monitoring the EN 9100 certification scheme
| | |
| --- | --- |
| Target | Audits completed |
| 14 audits | 6 office - 2 witness |
| 100 % | 60 % |
EASIS – European supplier database
~5 000 eligible suppliers
non EN certified
41 %
EN certified
59 %
~1 000 eligible suppliers/common to several members
non EN certified
16 %
EN certified
84 %
Commissioning for EN91xx certification
| | |
| --- | --- |
| Target | Result obtained |
| 1 926 suppliers | 423 certified – 6 in progress |
| 100 % | 22 % |
Optimising supply chain performance
403 evaluations supply chain au programme 2016
16 participating members
152 still to be scheduled


(45 cancellations)

111 completed
185 scheduled

AT A GLANCE
Call for candidates
The (Franco-Belgian) French CMBC team is looking for Qualifas (mainly EAQG members) to contribute to REINFORCE its operating team.
Workload estimated at 10% FTE.
Skills required - Knowledge of EN 91xx standards (EN9104-001 & 002 & 003 scope) and fluent English
[IAQG-OASIS] 2016 Release of AS/EN/JISQ 9100 and Transition Timetable
"The IAQG is pleased to announce the 2016 release of AS/EN/JISQ 9100 Quality Management Systems - Requirements for Aviation, Space and Defense Organizations standard to publication bodies. All certified organizations desiring to continue AS/EN/JISQ certification will be required to transition to this new standard. The AS/EN/JISQ 9100 is the first 9100-series standard to be released with the remaining standards to be released and transition activities occurring according to the TIMETABLE posted on the OASIS Homepage." www.sae.org

PrEN9100:2016 was published on October 3rd and is now available to be purchased on the ASD STAN website http://www.asd-stan.org


AGENDA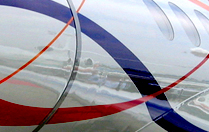 OCTOBER
October 10-14
IAQG meeting - Miami
October 27
Gifas Quality Commission meeting - Paris
NOVEMBER
November 15
CBMC - Paris
November 24
Gifas Quality Executive Committee meeting
DECEMBER
December 1 st
Comité AAB - Rueil